International Conference on Sustainable Food Tourism
On the 5th of September 2019, the final conference of the MEDFEST project will take place in Tavira. MEDFEST project main goal was to tackle the challenge of the traditional 'sun & sea' tourist destinations diversification, with new and sustainable products based on rich and renowned culinary heritage of the Mediterranean. At the very end of the project, on the final conference will be presented the tools and methodologies developed during the project duration and the final strategy on sustainable gastronomic tourism on the Mediterranean.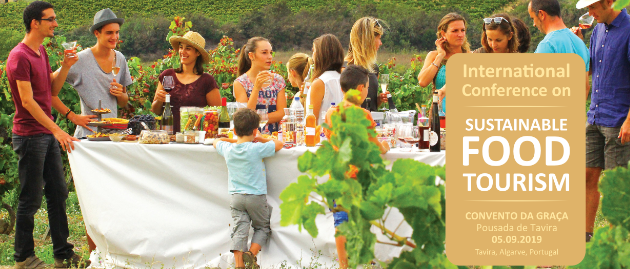 The International Conference on Sustainable FoodTourism will be held in Tavira, in the Convent of Graça, on 5 September, an event that will bring together experts and organizations from eight countries of Mediterranean Europe, focusing on strengthening the sustainability of the tourism sector through their cultural heritage.

Organized under the INTERREG MEDFEST project, this conference will discuss the fundamental elements of Gastronomic Tourism as an activity generating territorial balance, local valorization and affirmation of the cultural identity of the communities.

The tools and methodologies developed during the last three years will be shared and eight experiences of sustainable gastronomic tourism will be presented, which should inspire public policies for this sector and the emergence of new business initiatives in this sector. A round table will discuss the strategies for integrating Sustainable Gastronomic Tourism into public and private agendas, with the participation of consultants Davor Šišović (Croatia), Vitor Sobral (Portugal), Domenico Lizzi (Italy), Murielle Bousquet (France), Silvia Aulet Serrallonga (Spain), In Koudoumas (Greece), Savvas Maliotis (Cyprus)The presentation of a proposal for a European strategy for the promotion of sustainable gastronomic tourism precedes the closing ceremony.

The International Conference on Sustainable Gastronomic Tourism could only be concluded with a gastronomic experience at "Ribeira Public Market", a space where a team of chefs, conducts five thematic "islands" (soups, fish , meat, desserts and fruit and wine), taking guests on a taste trip for the flavours and know-how of the Mediterranean lifestyle, intangible cultural heritage of mankind (UNESCO).